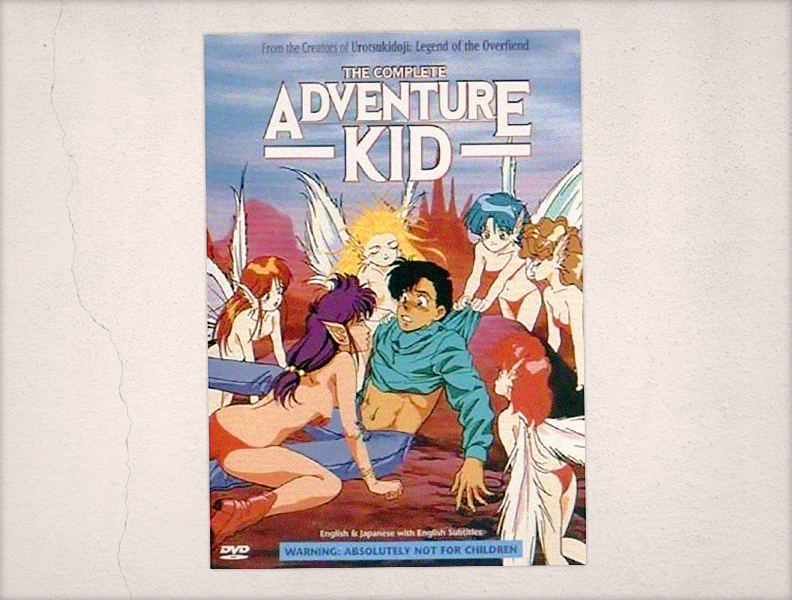 Ok so I have watched the hentai with the name Yôjû sensen / Adventure Kid / Adventure Duo. I did not choose the name Adventure Kid after the Adventure Kid hentai and that was because I didn't know about it, and if I had known about it I might have chosen another name. I got the idea for the name Adventure Kid when I was in my summer house and it was in 2005, you know pre smart phone era, so I couldn't search Adventure Kid to see if it was ok to use. My girlfriend at the time liked Adventure Kid and a few weeks later when I got home and could search the internet and found that there was a pretty weird hentai called Adventure Kid I was already attached to the name. So yeah I read that it was weird and was straight up porn from time to time. So I decided to watch it. And just after a few minutes into the movie I kind of decided not to really watch it. It was not only more or less porn, but I expected that as it is a hentai, it was awful in every sense. Bad voice acting, bad animation, bad, bad, bad.
It's an insane mixture of pornography and sitcom. Helen McCarthy in 500 Essential Anime Movies
So the story is basically a 19 year old game whiz named Norikazu finds a World War II era computer outside his home. When Norikazu use the computer he releases a spirit called Masego that thinks Norikazu's girlfriend is a great substitute for his dead wife. That could be the start of a nice love story it's just that the spirits was betrayed by his wife and now he takes it all out on the girlfriend. There's of course some naughty tentacle stuff going on and stuff like that. And other characters that want to steal the girlfriend or Norikazu. And of course they are close to death all the time. It seemed like that anyway as I was skipping a lot of stuff.
And there are things that could have worked if the plot was a bit better. They get sucked into the computer tron style, they time travel, theres some hiroshima moment in there, etc. It could have been pretty cool.
Yeah so avoid this show at any cost. There is nothing good about it so there is no reason to watch it. Not even if you are a die hard hentai fan. It was renamed Adventure Duo cause well Adventure Kid could make people think it was suitable for children. I think they should have got rid of a name at all so no one would think it was suitable for them. Ever.
I couldn't find where to buy it, somewhere to legally download/stream it or a torrent… Let's keep it that way people.