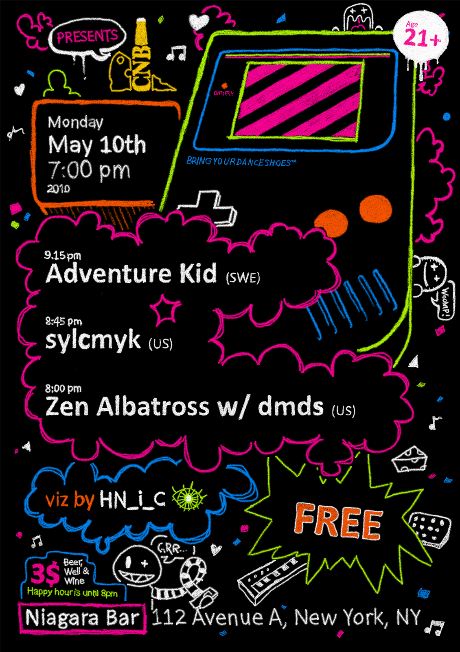 New york treats the Kid incredibly good, so good it's hard to find the motivation to take the time to blog. Next monday a show at the local bar, Niagare Bar, and the week after that I'll be in the studio to try to record the last stuff for How to make life suck less.
The other bands at monday's show are:
---
sylcmyk ☚|⚈‿‿⚈|☛
sylcmyk's name is Sylvester Draggon Jr.
sylcmyk's parents are Jamaican.
sylcmyk was 4 when he first played with his keyboards.
sylcmyk still watches Sesame Street.
http://sylcmyk.com
---
Zen Albatross w/dmds ☚|⚈‿‿⚈|☛
Zen Albatross makes stuff with pixels, Game Boys and ancient spirit magick. He also blogs about art, airships, bleeps, bloops and other swell things. http://8bitcollective.com/members/Zen+Albatross/
dmds stands for drum machine dating service. Jenn de la Vega doesn't really play a drum machine, (yet). She doesn't want to talk about it. http://drummachinedatingservice.info
---
I hope to see you there!