This seems very fake, and I hope it is cause it's not as cute as it should be. Maybe I should be exited but I feel like a part of my childhood was kid napped and tortured.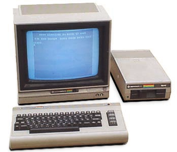 It's Commodore USA who has started to make Commodore computers in some kind of updated breadbox model… They don't have the rights to use the original Commodore trademark, and there is already some Commodore game computers out there so I don't really know what this is about but I'm told it's going to be available for purchase 1st of June.
If this is for real: Heads up for trying to use the breadbox way of thinking but why didn't they make it more inspired by the original Commodore? Why boring black?
It could have been  AWESOME!