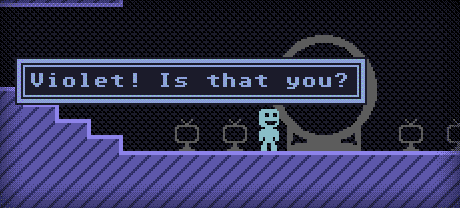 I just felt I had to get the word on this game out!
The story is quite simple, disaster strikes, something hits your spaceship and you and the rest of the crew have to abandon ship. So the crew line up to the  teleporter and teleports away, you get teleported into a new world, but you are alone. Where are the rest of your crew!? Dammit, got to find them all!
You can go left and right and change gravity which is a lot like jumping but you end up in the standing standing on the sealing. While looking for the crew you'll die over ande over and over and over and over and o… But no worries, it's all part of the plan. You have infinite of lives and this game is all about get across the screen or die trying and then try again and again and again.
The chip-tune music is well programmed, fits the game very well and is used well in the game.
It's like a 9/10 Aows!.
Head over to VVVVVV's homepage, try the demo!