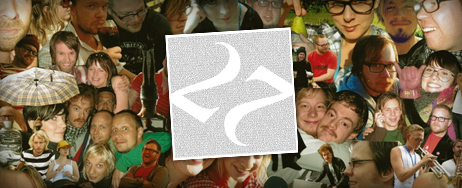 It's kind of weird but around the same time as I started a one man band one of my best friends started a twenty/thirty men strong band. My friends name was Emanuel and he named the band after a line from Manuel in Faulty Towers – "I'm from Barcelona, I know nothing". Well without the ending "I know nothing". Emanuel invited me to join the band but I had better things to do (yeah right… I think I was afraid to sing).
This story could be so great, it's kind of a "prodigal son"-story, I'm just not telling it right. But anyway I'm the son who become a drunk and have to work as a swine heard and I'm from Barcelona is Jesus. Get the picture?
Maybe not…
Ok, this just don't go very well… To make a long story short everyone in I'm from Barcelona recorded a solo song and then they made a album out of it. And I got one song on it, that's the coming home piece of the story.
I don't need to be a swine heard or drunk any more. Hurray.
The album is called 27 songs from Barcelona, it's a triple vinyl and it'll be out the 27th of January.
If you want to you can read about it at I'm from Barcelona's homepage.
I'll keep you posted.